There's a long running debate in shoemaking: which is more versatile, Black or Dark Brown Calf? Of course, both materials are about as useful as can be to have the in wardrobe, but which colour edges it, if any?
Historically, black shoes have always been thought of as the most formal and therefore the most 'proper' shoes a man can own, but in today's increasingly casual society dark brown shoes are smart but not too smart – and more than acceptable in the work place, or to wear to dressy occasions like weddings and evenings out. We don't think black shoes will ever go out of style, but dark brown is certainly in ascendancy. In the city, dark brown shoes were an absolute 'no-no' 10 years ago, and we used to hear stories from our city customers of colleagues being sent home in disgrace for daring to arrive at the office in anything but black Oxfords. Thankfully, those days are on the way out.
Of course, like any fine English shoe, even in the same material there's a sliding scale of formality. At the relaxed end of the spectrum, staples like our Cavendish tassel loafer in Dark Brown Calf are indispensable, as is Sydney penny loafer or the Grantham 2, with its lovely pulled-up apron. We also offer the Bury 2 and Crawford loafers in Dark Brown Antique Calf in our Hand Grade collection, both of which benefit from delicate hand-stitched aprons and Hand Grade lasts. If you prefer loafers to laces, shoes like these are a great choice for summer weddings – simple and elegant.
Things get a little more interesting when you consider dark brown lace-ups. Classic Oxfords are seldom out of place, and we're seeing more customers choose dark brown Oxfords for business casual and smart casual dress codes. The Westfield with its punched toe caps is a good place to start here, but so too is Hallam with its plain cap toe design or the Connaught 2 with its elegant almond toes care of shapely last, the 379.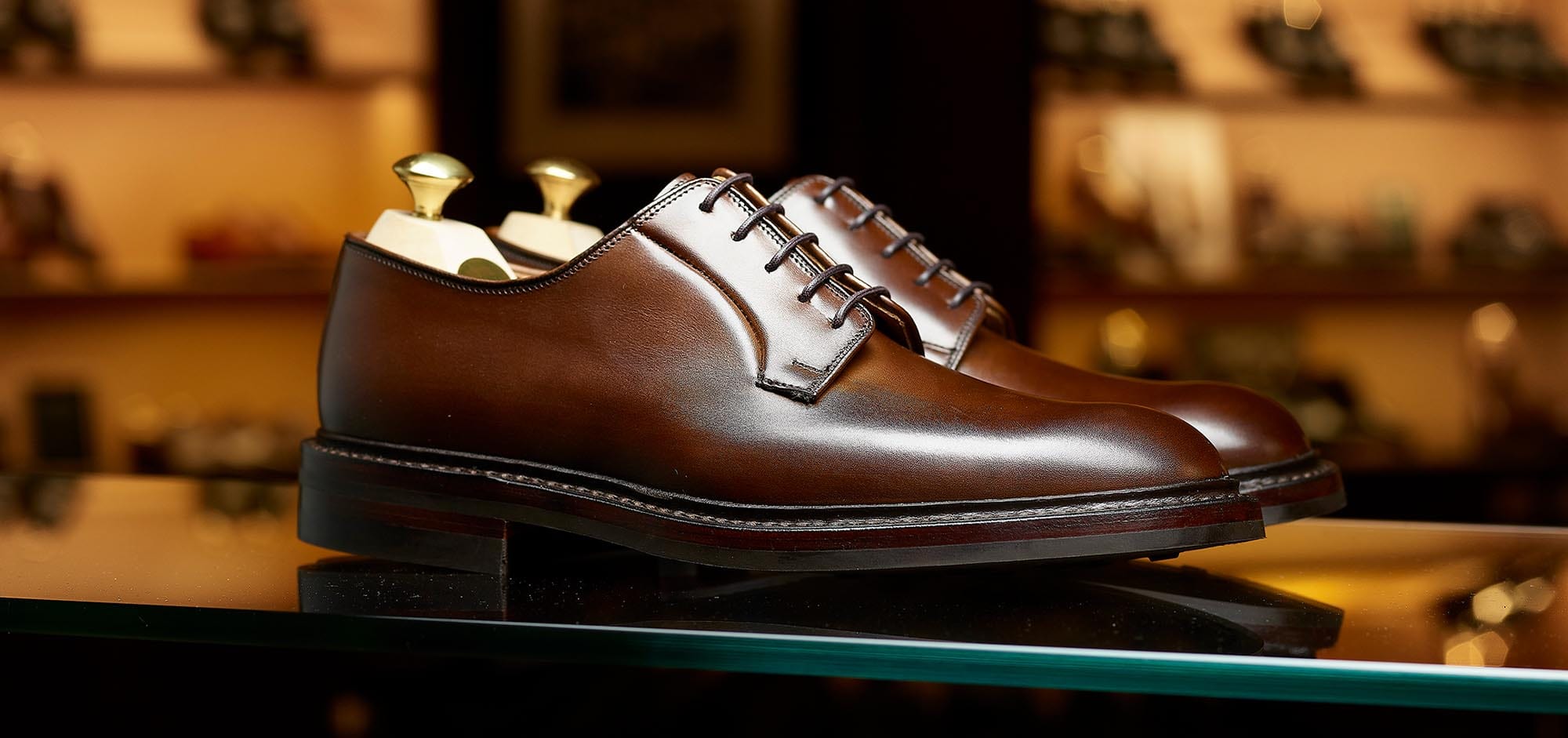 Incidentally, Connaught 2 is also set on our City rubber soles, which help it to assume the position of a versatile all-rounder. For something unashamedly sleek, our Alex wholecut is classically elegant with its dressy square toes. This is a shoe to wear with a well-cut dark blue suit and tie equally well suited to suiting for business or pleasure.
If, however, you're looking for a dark brown lace-up that's subtly different, then our Derbys come into their own. The Lanark 3 is available in Dark Brown Burnished Calf, and despite its classic country roots it is more than smart enough to wear about town. Its generous, rounded silhouette might have its origins in mid-century walking boots, but today its proportions are distinctly fashion-forward – suited to everything from modern tailoring to tapered chinos with rolled up hems. Thick knitted socks complete the look.
The Hand Grade collection isn't short on elegant lace ups, either. Chief among these is the Lonsdale, which benefits hugely from the impressive fitting qualities of the 363 last, which was produced in 2009 with a view to provide a highly supportive and yet elegant looking dress shoe. Audley is similarly elegant with its soft chisel toes and the Courtenay is a distinguished option too with its unusual hand-punched Adelaide design.
We tend to make boots in the more rugged materials we offer, like Scotch Grain or Rough-Out Suede, but we do offer the Lingfield Chelsea boot in Dark Brown Burnished Calf. Unlike our staple Chelsea 8s and Chelsea 11s, Lingfield is lasted on the 348 with angular toes. Consequently, Lingfield strikes an attitude and is a great boot for sharp dressers in search of Chelseas that work well with tailoring. The Camberley double-monk boot is also lasted on the 348, and is similarly distinguished with its sweeping profile and silver buckles.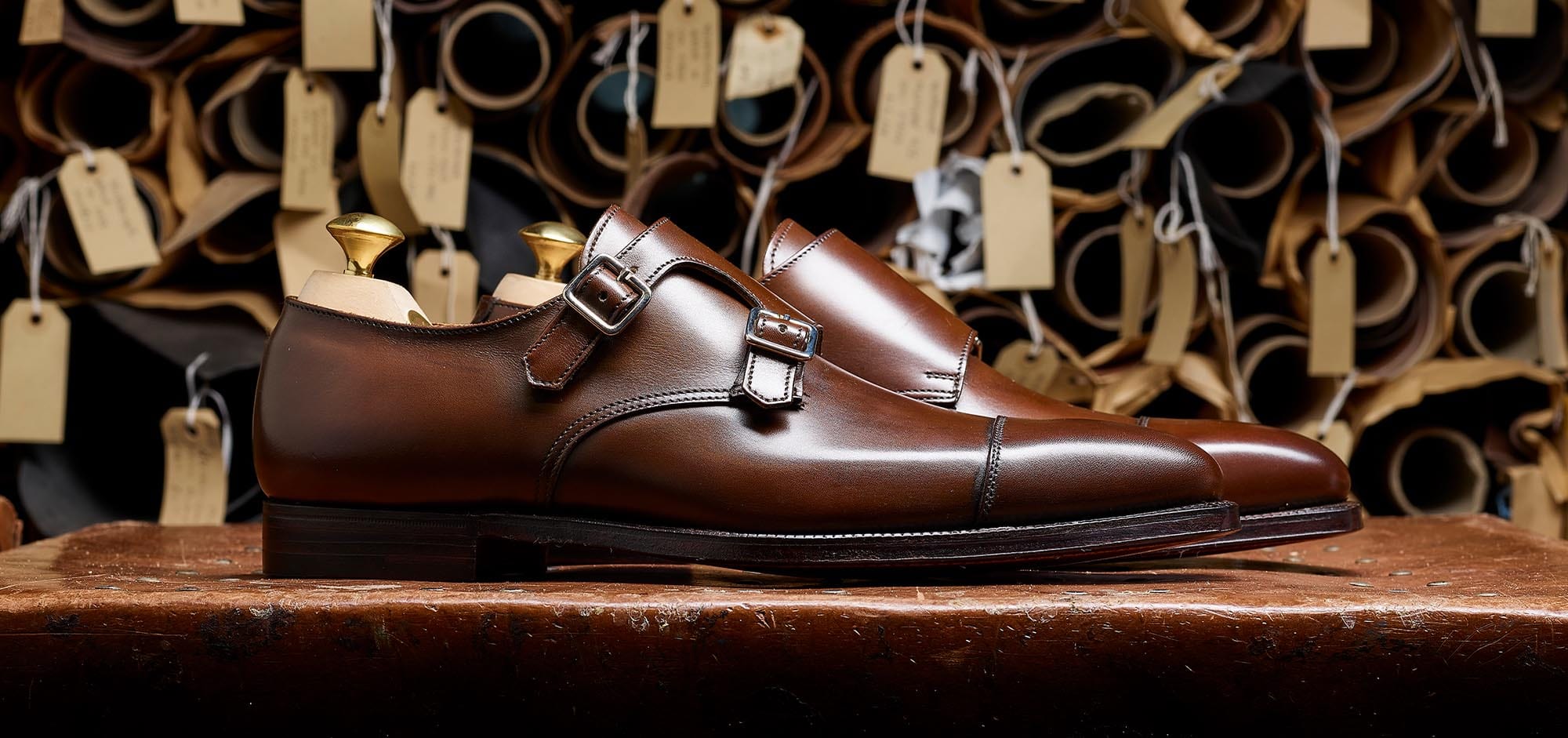 The Camberley leads us to the last style of Dark Brown Calf shoes you can choose from: monk straps. The most popular monk straps we make are the Lowndes; a classic double buckle monk shoe with timeless good looks. Historically, monk straps have offered a dressy alternative to Oxfords, but today they're yet another style that are easy to dress down. The Hand Grade equivalent of Lowndes is Seymour, and either of these balance an elegant profile with smart-casual appeal. Single buckle monks are arguably a little more casual, so you might also try the Swindon or Hand Grade Savile 4 with dark jeans or chinos and an unstructured jacket for an easy off-duty look.
This whistle-stop tour of our Dark Brown Calf shoes is far from exhaustive, but we hope this article has at least peeked your interest in something new. We currently offer close to 30 models in dark brown calf, so do take your time to root through our online catalogue for more C&J favourites. And as always, keep in mind we offer our own exclusive Crockett & Jones x Saphir shoe care products and a matching dark brown calf belt too.