Shoe Care
CALF
Whether it is European Calf, Calf Suede tanned in England or Cordovan from Horween in North America, Crockett & Jones prides itself on using the finest quality leathers available. By doing so, we provide our customers with a product that will continue to age well given the right care and attention.
How to Care for Calf
SHORT FILM
The Calf skins used by Crockett & Jones are of the highest quality, tanned by the finest and most knowledgeable European tanneries still in operation today. With a little help from Ben and Chris, both managers of Crockett & Jones stores in London, we have produced a short film to help you care for and appreciate the smooth calf used to produce your fine footwear.
Step 1
REMOVE THE DUST & DIRT
Brush your shoes to remove dirt and dust. (You should have a brush specifically for this job, do not use your horsehair polishing brush).
If brushing your shoes does not remove all of the dirt, you can use a damp cloth (do not use any soap or solvent based fluid) to clean away the areas.
Make sure you leave the shoes to dry naturally; you must not dry your shoes on a radiator or heater.
For very stubborn stains, you can use a light mixture of detergent and water.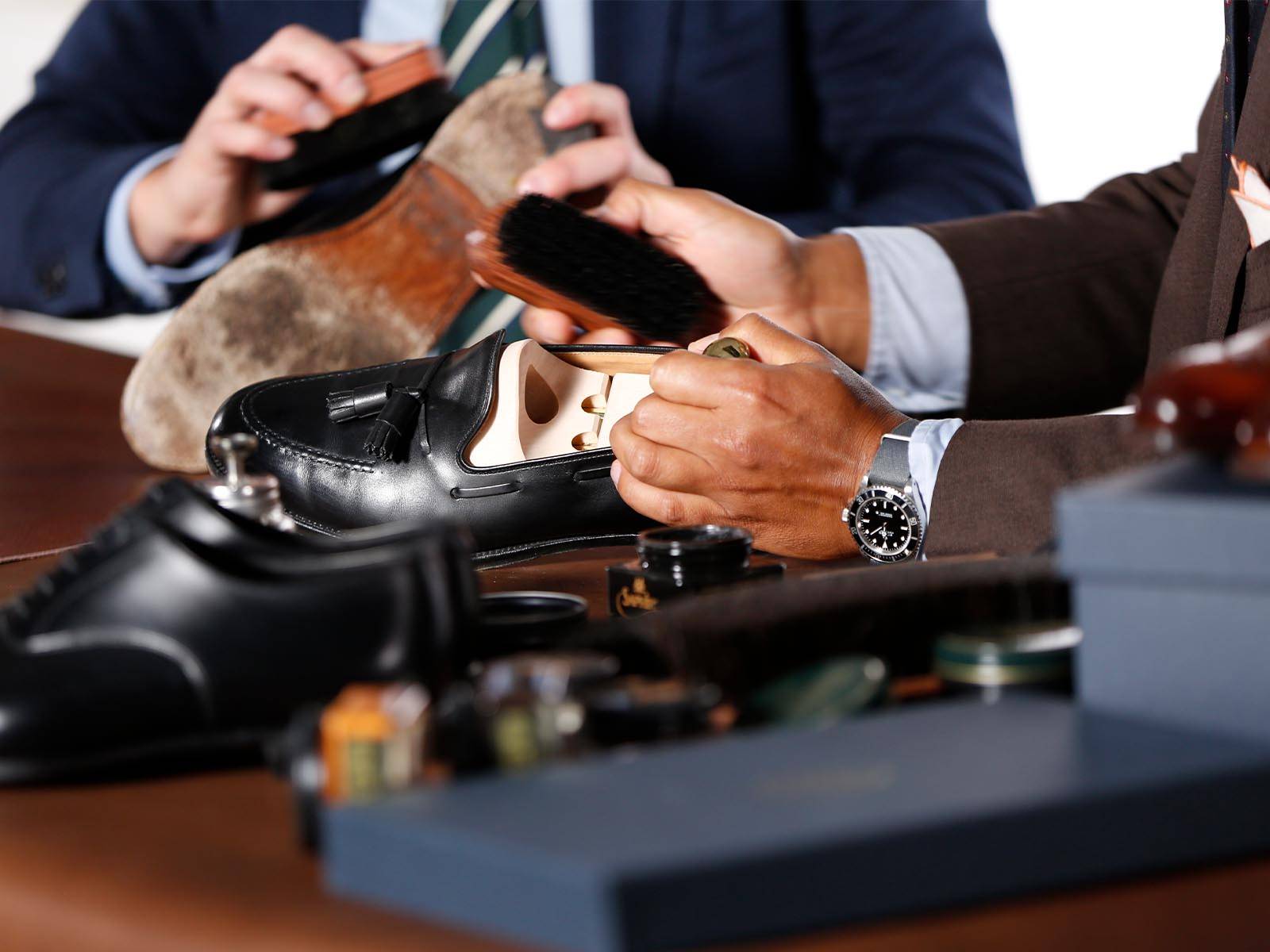 Step 2
NOURISH THE LEATHER
Before polish can be applied, we recommend using a moisturising renovator cream called Renovateur. This non-greasy beeswax based cream gently cleans the surface by removing unwanted wax, whilst nourishing the natural leather underneath to help protect it from cracking in the future and thus prolonging the life of your shoes.
Apply with a cotton cloth or brush (clean, without wax) all over your shoes. Do not put too much product on the shoes as you should be able to work in relatively small amounts into an area. Leave to dry before you buff off with a brush.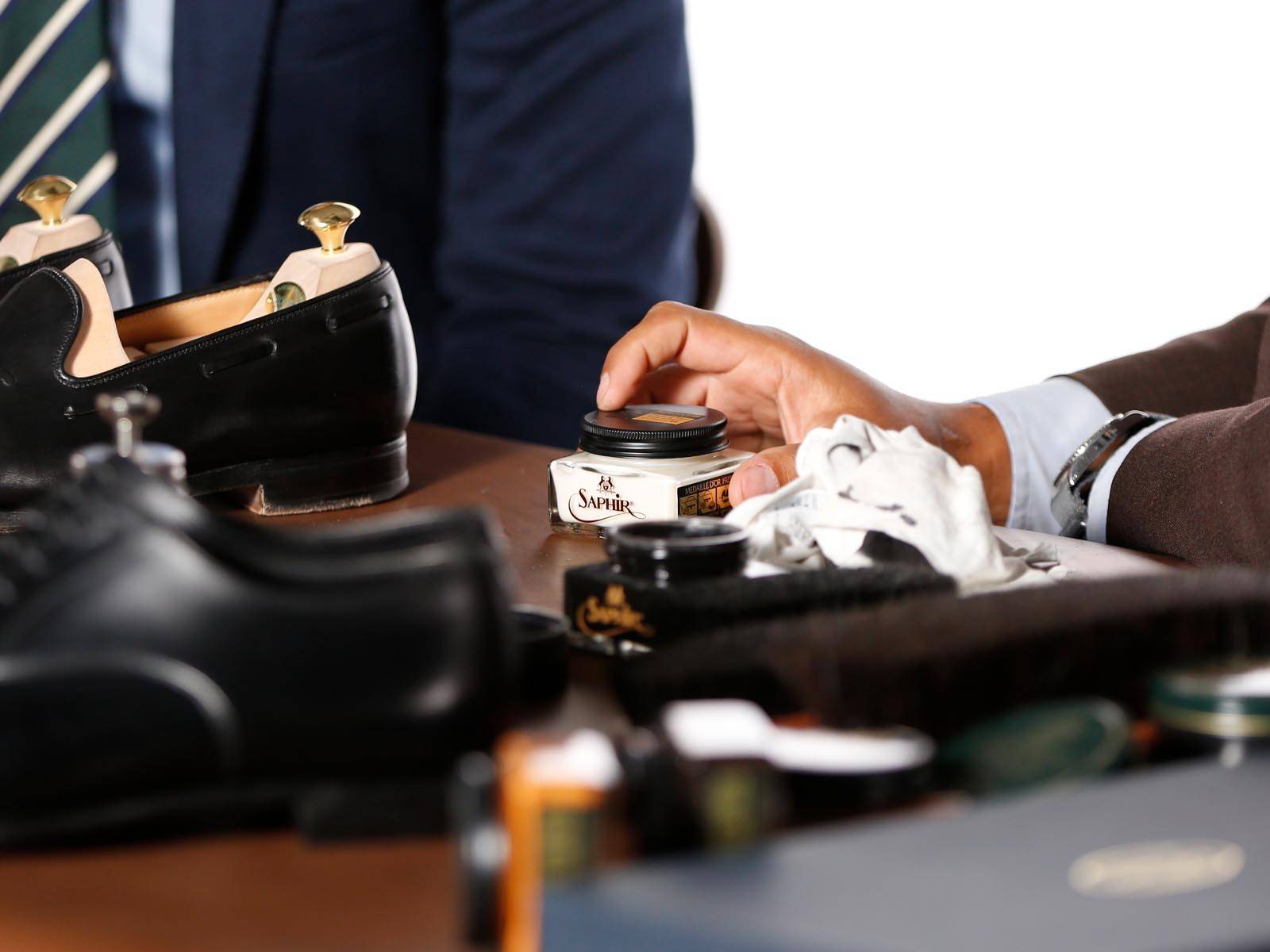 Step 3
POLISHING
Once dry, spread a small amount of shoe cream or wax polish evenly over the shoes with a cotton cloth or an applicator brush and leave to rest (dry) for a moment. We advise you to use shoe cream for more regular shoe care. shoe cream is also recommended if the leather looks dry or has at all faded.
Usually the time it takes to cover the other shoe is an adequate time period. This process can be repeated multiple times depending on the condition of the shoes.
Each time, a little more wax polish will remain on the smooth calf. It is important to do this in stages if you wish to repeat. Do not cover the shoes in too much product at one time.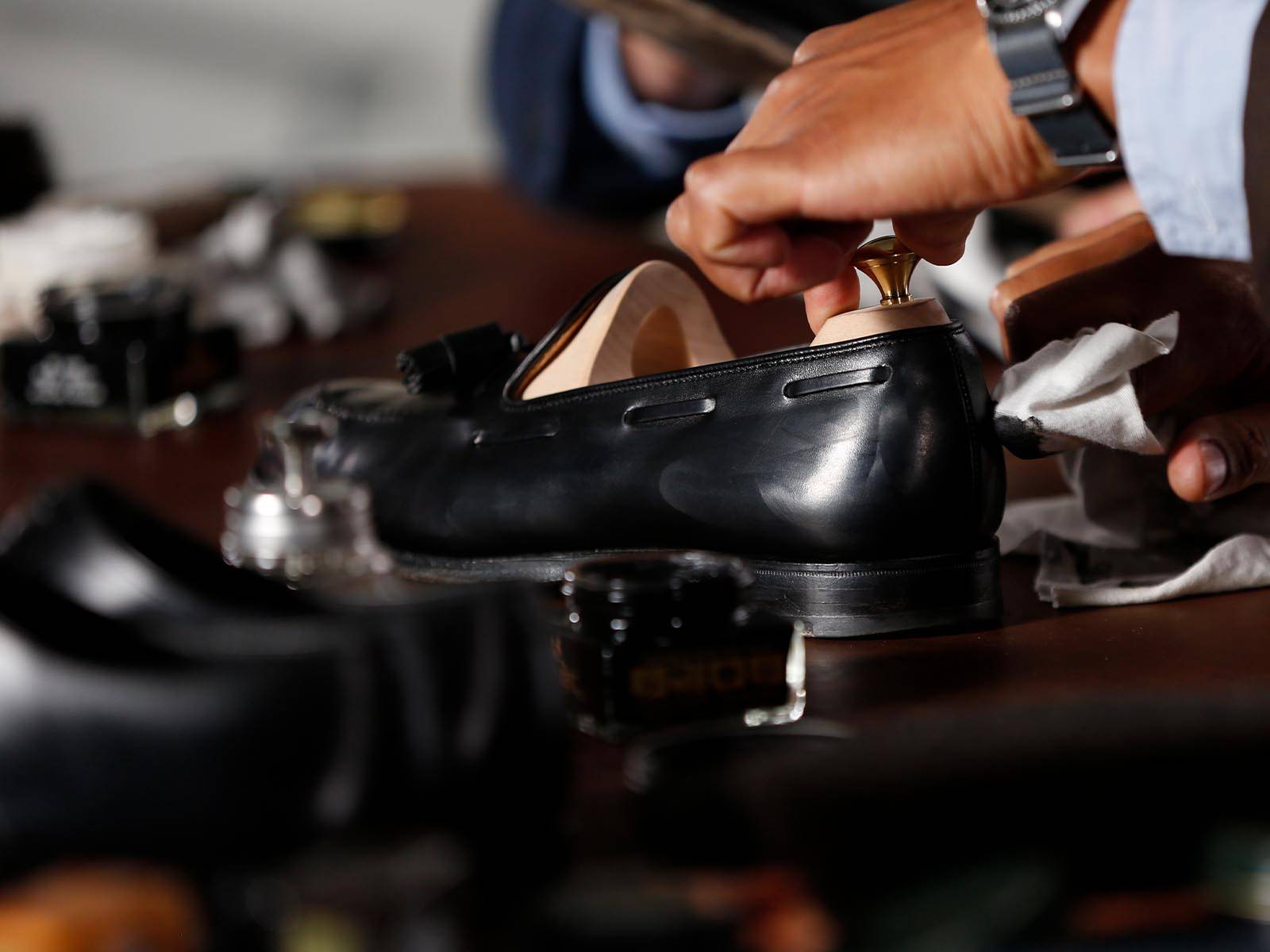 Step 4
BRUSHING
After the polish has had the chance to settle into the calf, brush the shoes all over with a back-and-forth motion, using a fine/soft horsehair brush (Ben's favourite!).
Brushing should have removed most of the polish and evened up the colouration of the shoes once again.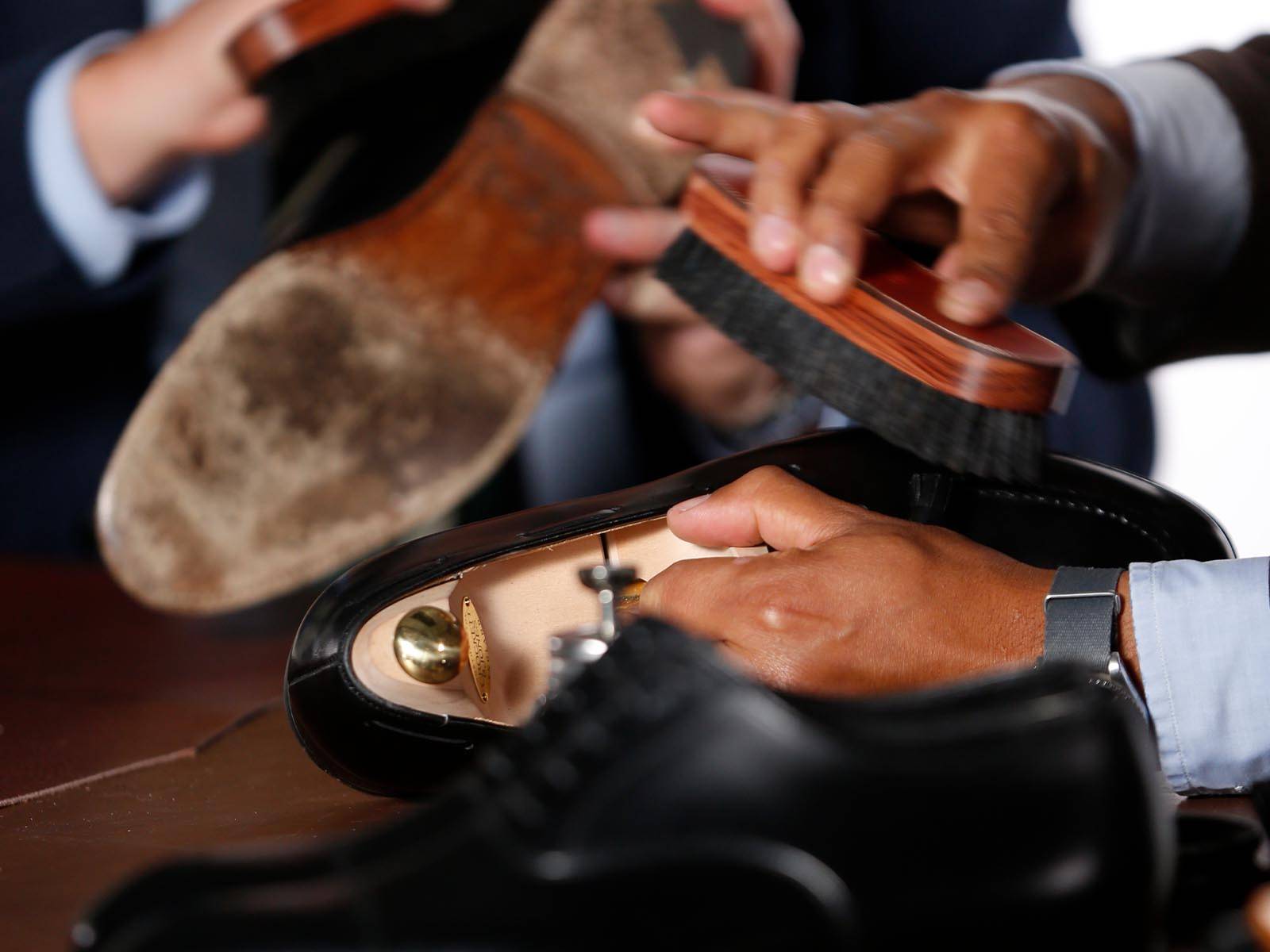 Step 5
FINAL BUFF
Buffing the shoes with a cotton cloth for a final shine removes the tiny brush marks from the previous stage. (Try not to buff the shoes too hard as this causes friction and excessive heat can darken the leather)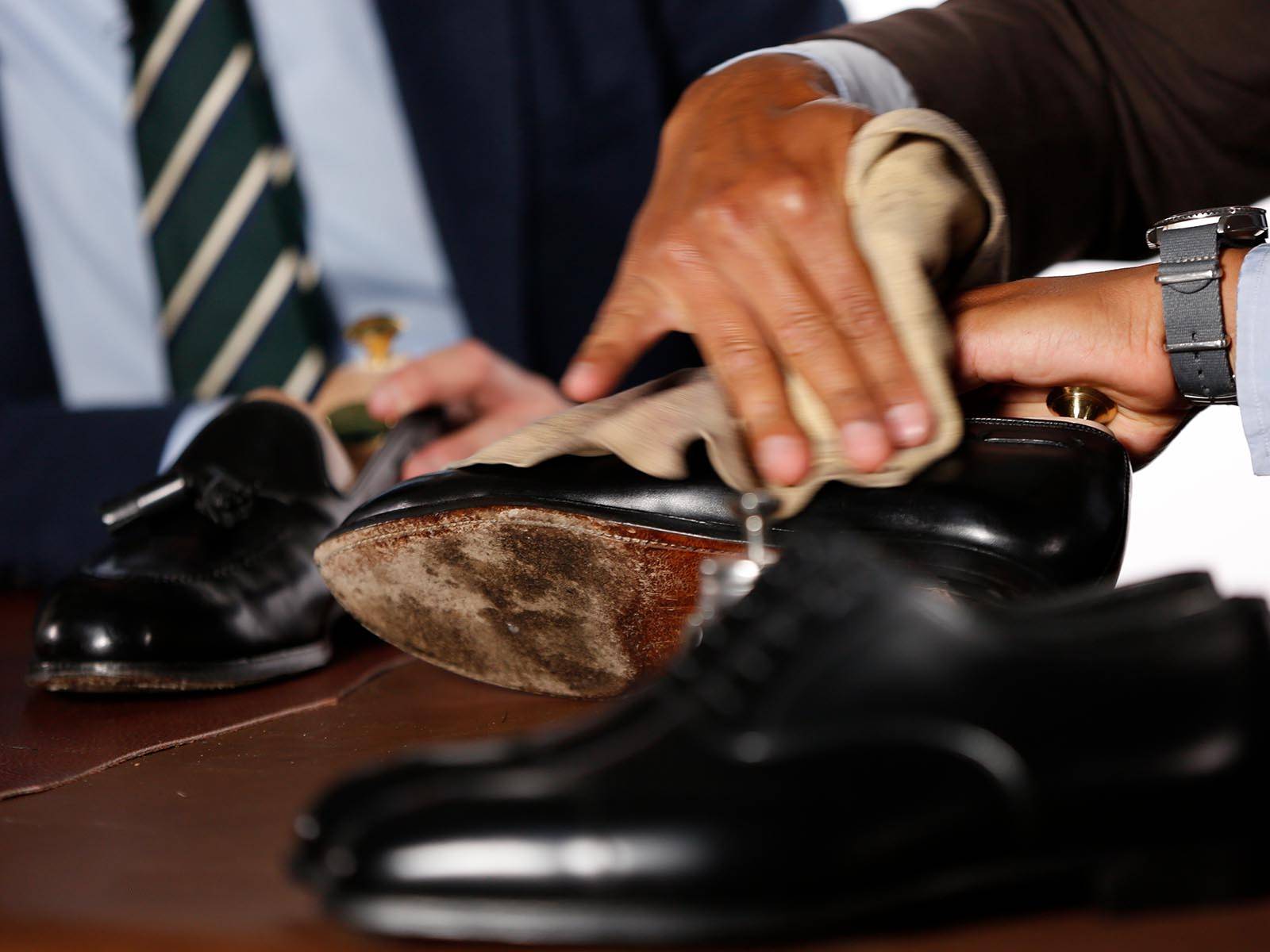 Before you get started
A FEW ADDITIONAL TIPS...
Tip 1
USE SHOE TREES - Using wooden shoe trees will help to absorb moisture and maintain the shape of the shoes as they dry out. Using a shoe horn prevents damage to the heels, counter and top line.
Tip 2
CHAMOIS LEATHER - After a quick buff with a cotton cloth, use a chamois leather (well used if possible). Chamois have an oily feel to them and present the softest type of material to achieve the highest possible shine without going to the trouble of Mirror Shine / High Shine / Bulling.
Tip 3
WAX CRAYON - During the manufacturing process, we ink stain and wax set the sole edges to increase water resistance. As one can imagine, soles take the most abuse during wear, coming into contact with hard surfaces regularly. At home, you can use a hard wax crayon to apply a similar colour wax to the edges where any raw fibres from the leather welt or sole are visible or where the factory wax has been damaged through wear.
Material World
Understanding Smooth Calf
Full grain leather is (to quote our Head Leather Buyer, Steve), 'a fine quality material where the leather's natural pore structure or "grain" is healthy, and is left untouched...