The Different types of English Shoes
Informing customers on the whys and wherefores of Crockett & Jones's shoes & boots is a luxury that we take pride in being able to offer. When visiting a Crockett & Jones retail shop, speak with a member of our retail staff and you will quickly realise that each of them is knowledgeable and passionate about their chosen field of work... high quality shoes.
If you do not want to go into that discussion unarmed, we hope to give you a head start with our Style Guide. Learn about the similarities between your Monks and Derbys, or the differences between a Saddle and Penny Loafer! We can but outline the major concerns, as the shoe industry is a rather unending topic of interest…
Loafer
With American roots and connections to the original moccasin, Loafers have grown from strength to strength over recent years. Another 'no lacing' option, Loafers are the most casual style available from a Goodyear-welted shoemaker such as Crockett & Jones. They are commonly produced in both 'Lined' and 'Unlined' forms.
Constructed as either one whole piece of leather or two sections including galosh and apron. Both constructions have a strap
Fitting of the last is key around two main points – the Heel and the Joint (widest part of the shoe)
Variations: Penny (short strap stitched with a cut-out), Saddle (long strap stitched with a cut-out), Tassel, Unlined/Lined, Split Toe, Wing Cap, Long Wing, Butted / Hand Pulled Up Apron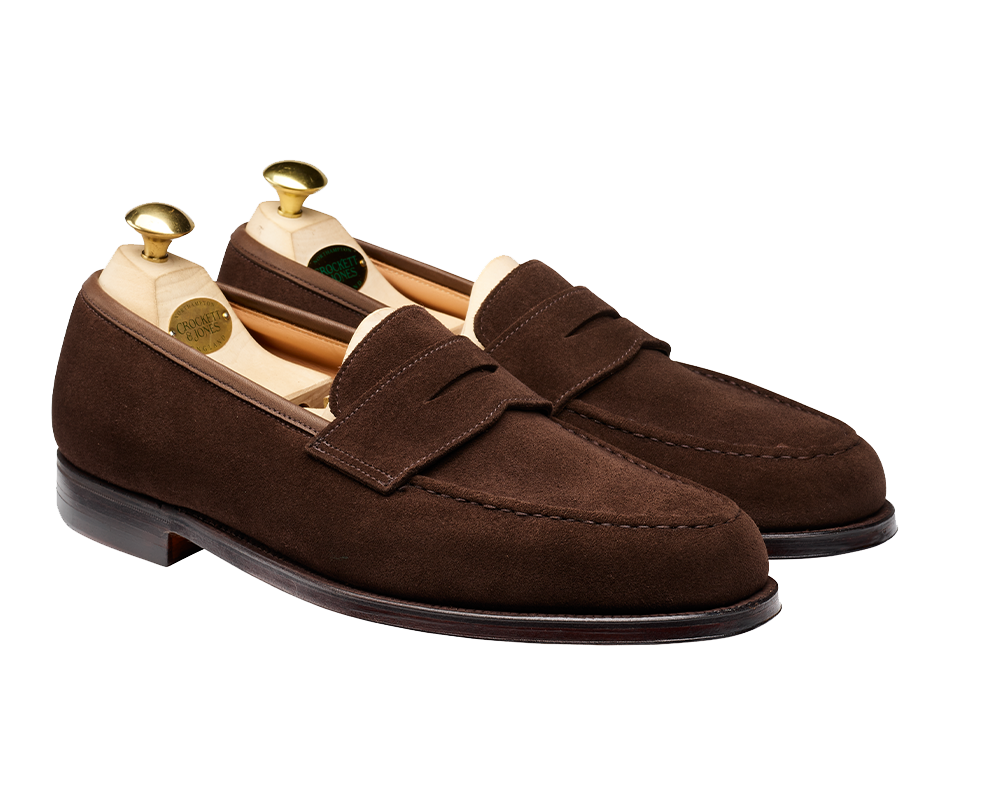 Oxford
The most easily recognisable of all classic styles, is the elegant English Oxford. A formal style that dates back over two hundred years, it is thought to have been named by the students at Oxford University, although it is almost certain that the style predates this 'naming' further still. The sequence of operations for constructing an Oxford differs to a Derby.
Inside and outside Quarters are stitched underneath the Vamp
The tongue is stitched in separately underneath the Quarters/Vamp/Facing
Often referred to as 'Closed Lacing'
Suited to lower instep
Variations: Whole Cut, Toe Cap, Full Brogue, Semi Brogue, Quarter Brogue, Balmoral or Bals, Adelaide, Spectator, Dress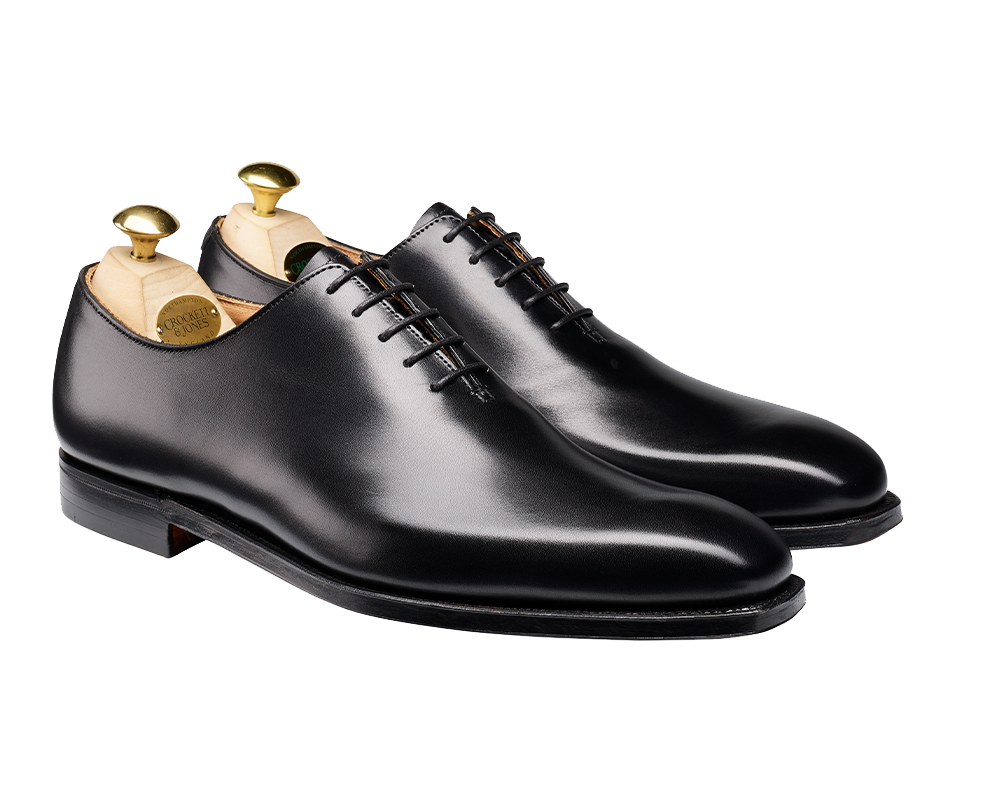 Derby
Derby shoes are possibly the most versatile of all shoe styles, bridging the gap between smart and smart casual wear with ease. A Brogue Derby is easily the most recognisable variation, made popular with the introduction of the full country Brogue which was developed for practical uses in the fields. The sequence of operations for constructing a Derby, differs to an Oxford.
Inside and outside Quarters are stitched to a tab point either side of the vamp
Often referred to as 'Open Lacing'
The tongue is cut as part of the vamp and is not a separate component
Suited to wider feet with higher insteps
Variations: Whole Cut (Blucher), Apron with Split Toe (Norwegian), Apron, Country Full Brogue, Long Wing, Plain Front, Toe Cap, Formal Brogue, Spectator
Monk Strap
Said to have been developed by an alpine monk in the 15th century, and worn throughout European monasteries, this style was popularised in the 1920s. Unbeknown to many, a Monk strap style hosts similar fitting qualities and construction to a Derby. You could think of a Monk style as a 'modern day' Derby, of sorts. With open quarters, and a whole cut vamp and tongue, Monk straps (single and double buckle) are remarkably comfortable on the foot. However, they will not offer the same level of adjustment, due to the absence of laces. The sequence of operations for constructing a Monk is similar to a Derby.
Inside and outside Quarters are stitched to a tab point either side of the vamp
The tongue is cut as part of the vamp and is not a separate component
Suited to higher insteps, but can lack adjustment
Variations: Double Buckle, Single Buckle, Wing cap, Toe Cap, Plain Front, Country, Spectator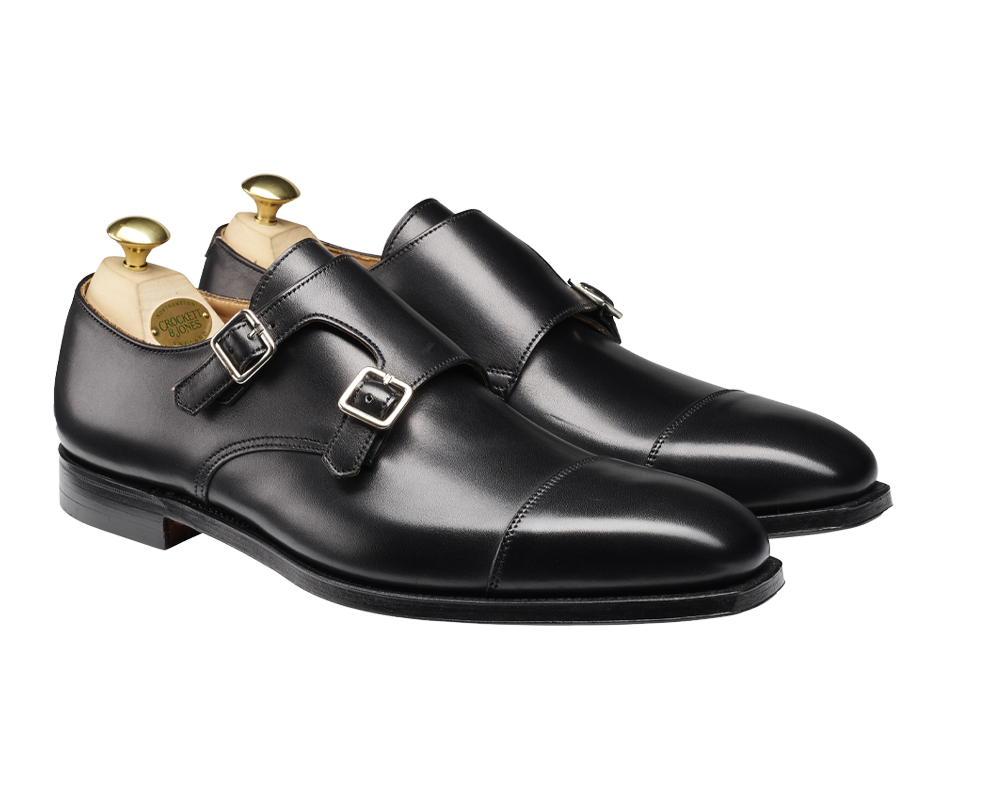 Derby Boot
The most popular of all the boot styles, a Derby boot is a fully lined, high leg and all together, more substantial boot than most. More often than not, featuring a Dainite or chunky rubber sole with variations similar to a Derby shoe. With historical references to Commando and Officers boots, the plain-front and Cap Derby boots are by far the most recognisable styles. Suitable for the colder Winter months.
High leg Derby boots are sturdy and offer a greater level of ankle support. 
Derby boots are the hardest wearing fully lined Boots in the collection.
Featuring speed hooks and pull tabs for convenience.
Variations: Toe Cap, Plain Front, Full Brogue, Apron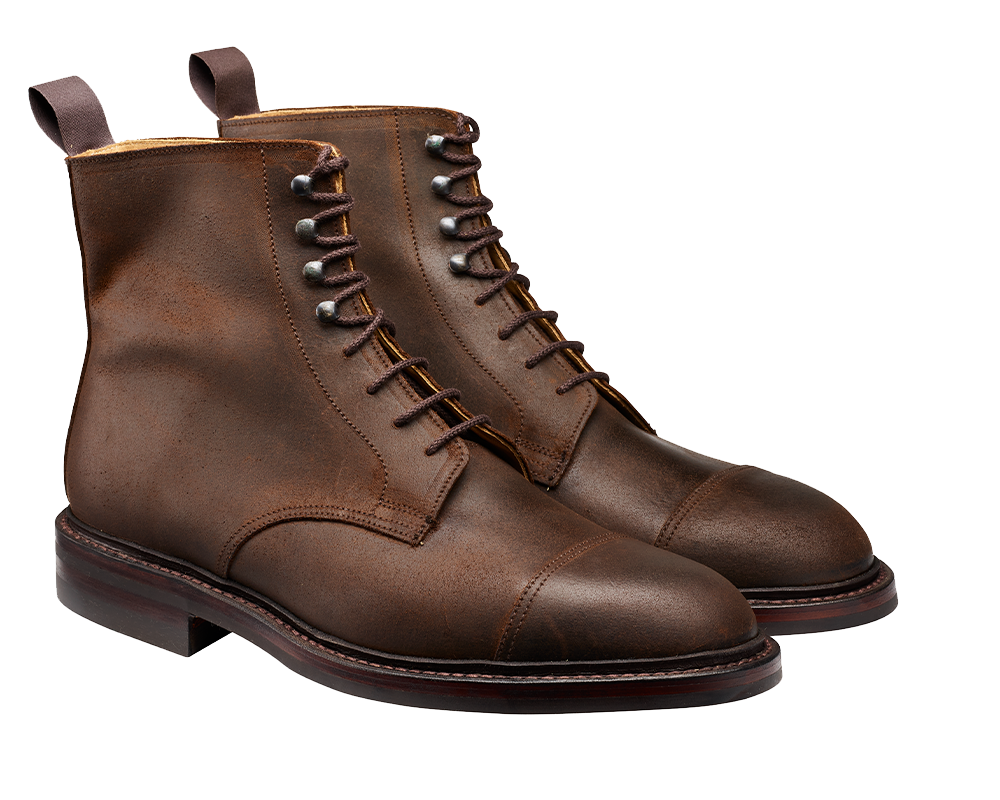 Chelsea Boot
An illustrious past has portrayed the Chelsea boot in various lights along the way. The origin of the name is a matter of debate, but these elastic sided boots date back to the mid-1800s. With strong last development, Crockett & Jones is able to produce a selection of Chelsea boots ranging from smart and elegant to casual country styling. Expert pattern cutting, and shoemaking of the highest order, means Crockett & Jones makes some of the finest Chelsea boots on offer today.
Blocking, a trade term, ensures the leather rests on the last perfectly and forms to the customer's foot
Elasticated sides for comfort and ease
Versatile collection from smart to smart-casual with varying fitting options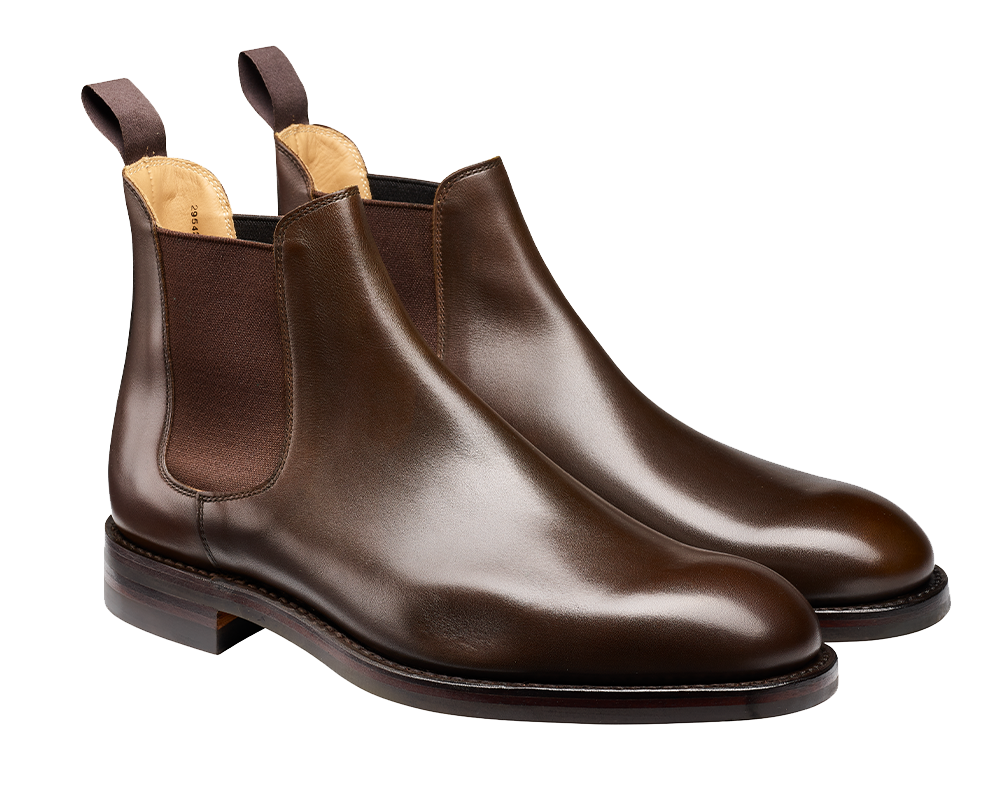 Chukka Boot
It is believed that a Chukka boot has both a sporting and a military heritage. A Chukka boot (or Desert boot) is constructed using three pieces of outer material – Inside Quarter, Outside Quarter and Vamp with low cut leg (but above the ankle) and two to three eyelets.
Chukka boots are usually considered unlined, although lined versions are available
Often regarded as the most comfortable of all styles – An unlined suede Chukka
Variations: Chukka, Toe Cap, Apron, Full Brogue, Plain Front
Demi-boot
The history of Demi or Low-Cut boots is difficult to pin down. We believe they can be dated back to the early 1800s as more fashionable item to be worn by the more discerning Gentleman of the time, an early Dandy if you like. Probably of feminine roots from the early days of booties, we also conclude that the rise of Chelsea and Chukka boots and also Side Gusset Casuals, would have had an impact. Crockett & Jones can first date back the making of Low-Cut Chelsea boots to 1910, but the Demi-Boot (proper) is not seen until catalogues from the mid-60s. A Demi-Boot just covers the ankle, but can still be seen below the trouser hems.
Rare to find, often unique to English shoemakers
Easy to wear with their simplistic styling
Jodhpur Boot
The Jodhpur Boot, originating from the city of Jodhpur is heavily linked to Equine sports, more specifically riding, worn alongside the Jodhpur trouser during polo matches in the early 20th century. Although traditionally made with a tall neck this boot now commonly sits just above ankle height and sports a round toe and low heel. It has just three parts to the boot; a 'Blocked' vamp, and inside and outside quarters, which are each made from a single piece of leather. The signature feature of the Jodhpurs is its method of fastening, with both a strap and a buckle wrapped around the ankle, crossing over at the back. This distinctive feature sets it aside from the rest of the collection as a style in its own right.
Blocking, a trade term, ensures the leather rests on the last perfectly and forms to the customer's foot
A signature cross strap & buckle
Equine roots, suited to both country and town wear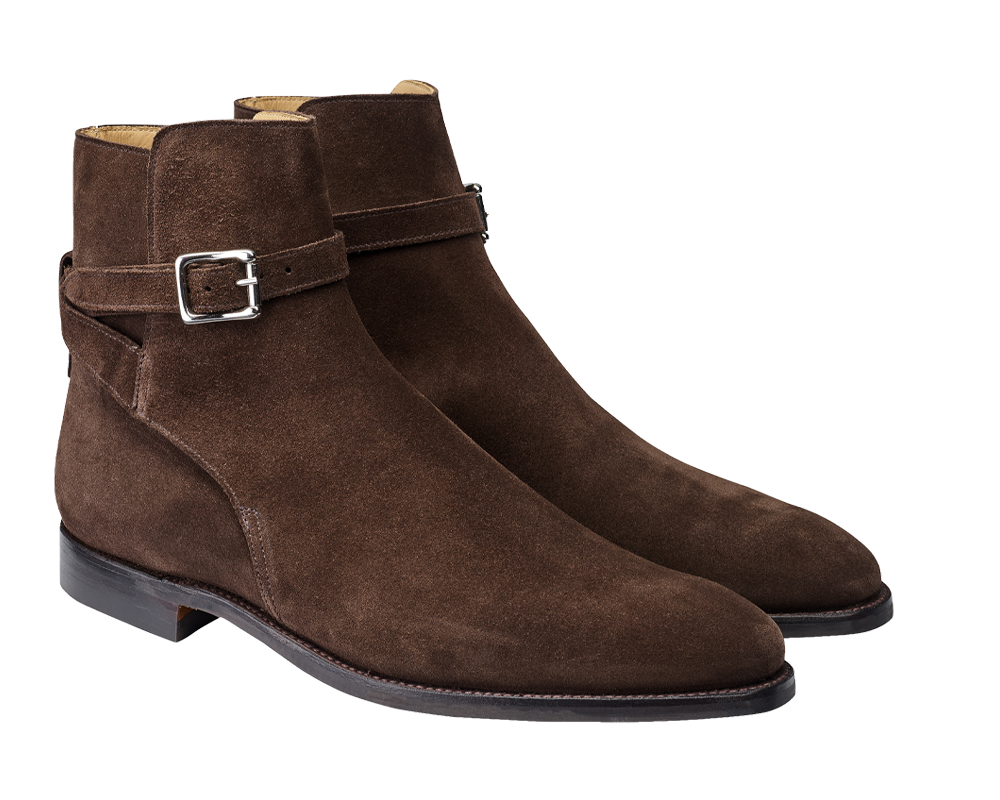 Velvet Albert Slipper
It is generally agreed that the style was named after Queen Victoria's consort Prince Albert. Developed in early 1800's as an attractive and practical indoor shoe, worn to protect expensive rugs and wooden floors that adorned the gentry's palaces and grand homes of England, from dirt and grime. The development of the Albert Slipper coincided with the fashion of wearing a smoking jacket. Described in a gentlemen's magazine of London in the 1850s, as a kind of short robe de chambre, of velvet, cashmere or printed flannel and lined with bright colours.
A slipper with the vamp extending up the instep to form a "tongue"
Generally made of velvet or silk, the upper is usually a whole cut
Often decorated or embellished with gold embroidery
Fully quilt lined, featuring rubber or leather soles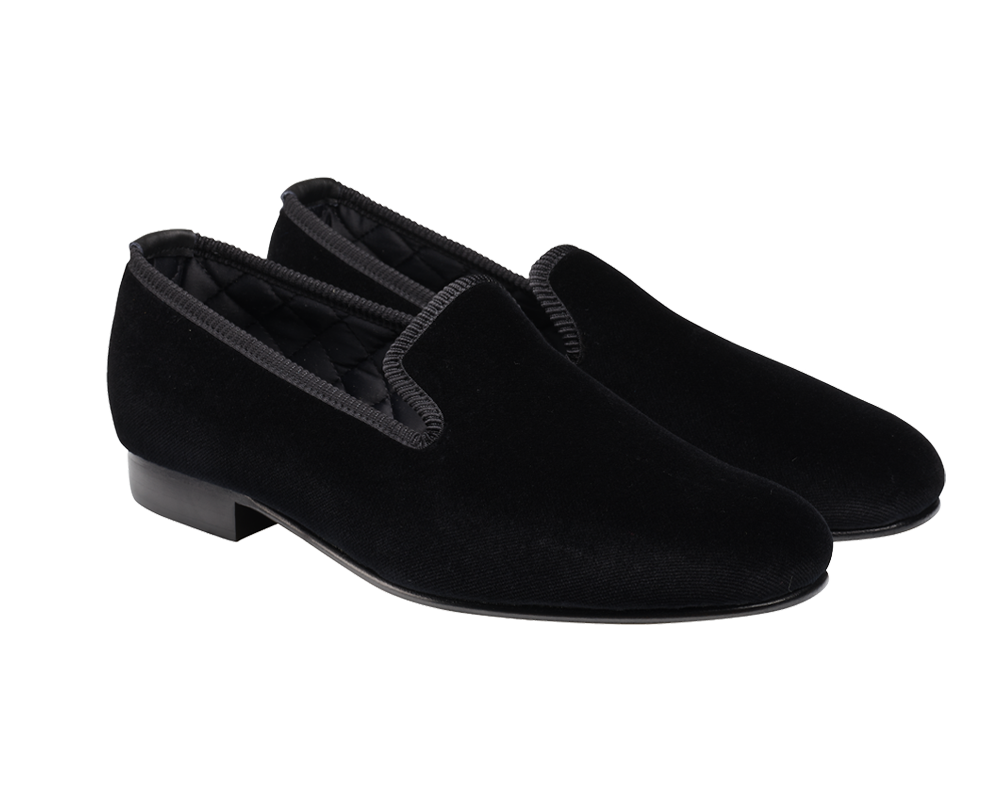 Driving Shoe
These soft, unstructured and ultra-comfortable loafers / moccasins were made famous by the Italians in the 1960s. If made with care and by an experienced hand, a car shoe or driving shoe will last you well. They are typically adorned during the warm summer months, and are often available in bright colours and soft suedes.
Extreme, slipper like comfort
Can be used as a lightweight loafer substitute
Available in a variety of colours, perfect for the summer months