The one thing no one has been able to take away from me this year is the palpable sense of serenity that settles on one's shoulders following a good old-fashioned ramble through the countryside. There's nothing else like it to clear the mind, or the lungs, particularly if you can work a wax jacket and some hardy shoes into the bargain.
Footwear-wise, country walks in the depths of winter mean one thing and one thing only; storm-welted or 'Veldtschoen construction' boots. Storm-welted shoes benefit from all the same components as classic Goodyear welted shoes (and can be re-soled in the same way) but whereas in Goodyear welting the shoe's uppers sit under the foot and are stitched beneath the insole, Veldtschoen boots feature uppers that are stitched directly to the midsole beneath the welt. This sounds confusing, but all you need to know is that the design prevents water from seeping between the welt and the insole, which ensures complete water-resistance in your shoes – perfect for stamping through puddles.
With this in mind, let's start with the grandfather of all Crockett & Jones's storm-welted boots. I purchased my first pair of Conistons a couple of months ago, specifically to put through their paces stomping through mud. I was advised to invest in the Dark Brown Rough-Out Suede model thanks to the material's superior water-proofing. Suffice to say, it was good advice. At every available opportunity this winter, I've been dashing out of London in a Zip Car to reset with a boggy, puddle-strewn march through the Home Counties and my Conistons are not only comfortable, but keep my feet toasty and bone-dry come what may.
Get the look
Dark Brown Rough-Out Suede
Dark Brown Rough-Out Suede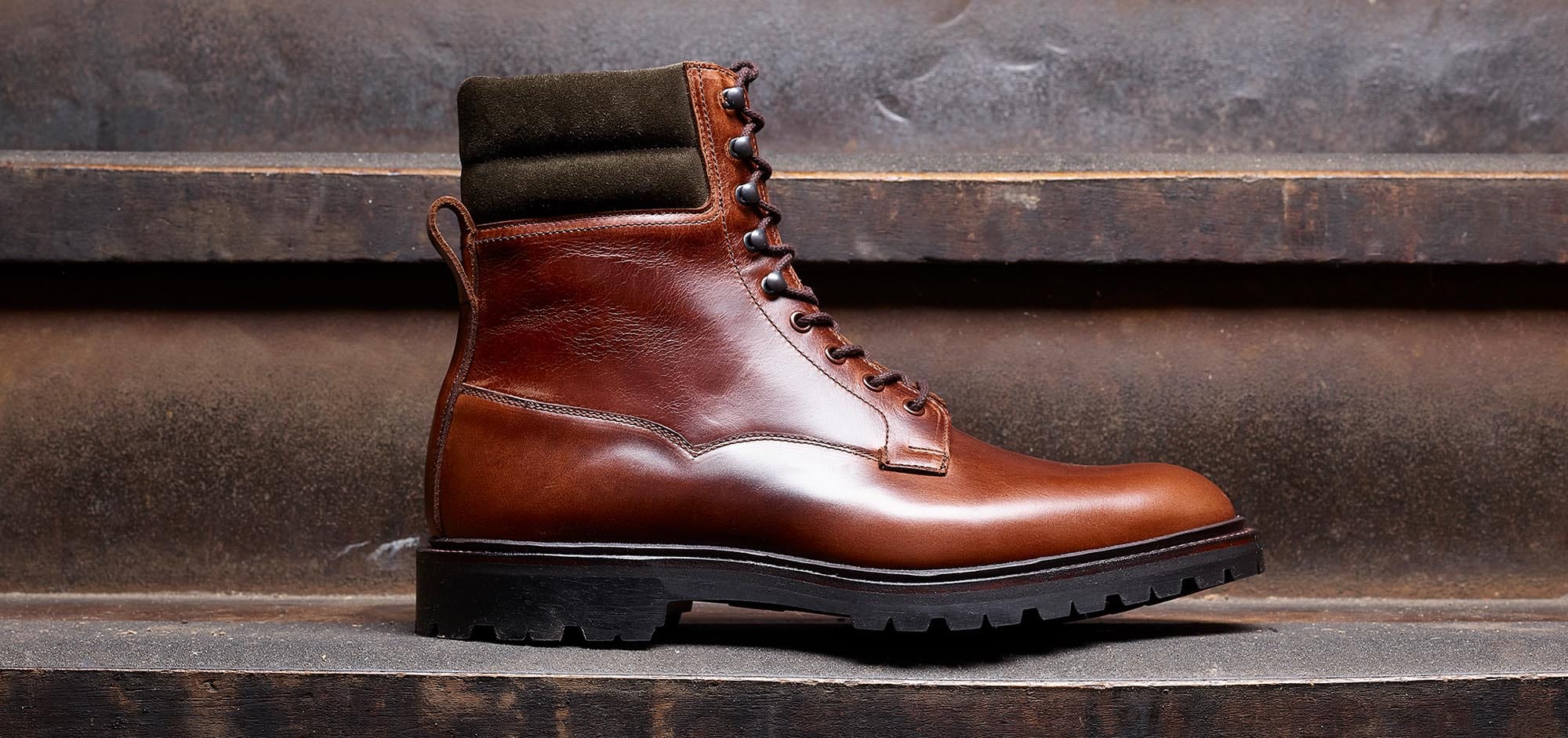 The Rough-Out Suede uppers certainly help thanks to the materials oiled finish, but Rough Out isn't the only material in C&J's collection that will stand up to a sodden field. The Ross boot in Chocolate Hurricane Hide is a boot to admire, set on its towering Vibram Cleated Rubber Sole. Hurricane Hide is treated with several coats of wax during the tanning process, which fills the leather's pores and impedes water from penetrating your boots. This, together with the Ross's speed hooks and supportive suede collar which grips around the ankle, makes these ideal kit to take-on the great outdoors.
So too is the Snowdon. This boot (as the name suggests) was designed with walking in mind. Lasted in Oak Wax Hide with similar heavy-duty sole as the Ross, Snowdon also features a bellows tongue, meaning the tongue is fully attached to the inside of the boot to catch any water that somehow makes it through the lacing system, guarding against soggy socks. The Snowdon is another favourite of mine because its whole-cut front lends the design a surprisingly sleek profile. It's a boot that's just as at home in the city with a pair of dark denim jeans as it is with colourful cords or moleskin chinos.
Get the look
Chocolate Hurricane Hide & Earth Green Suede Collar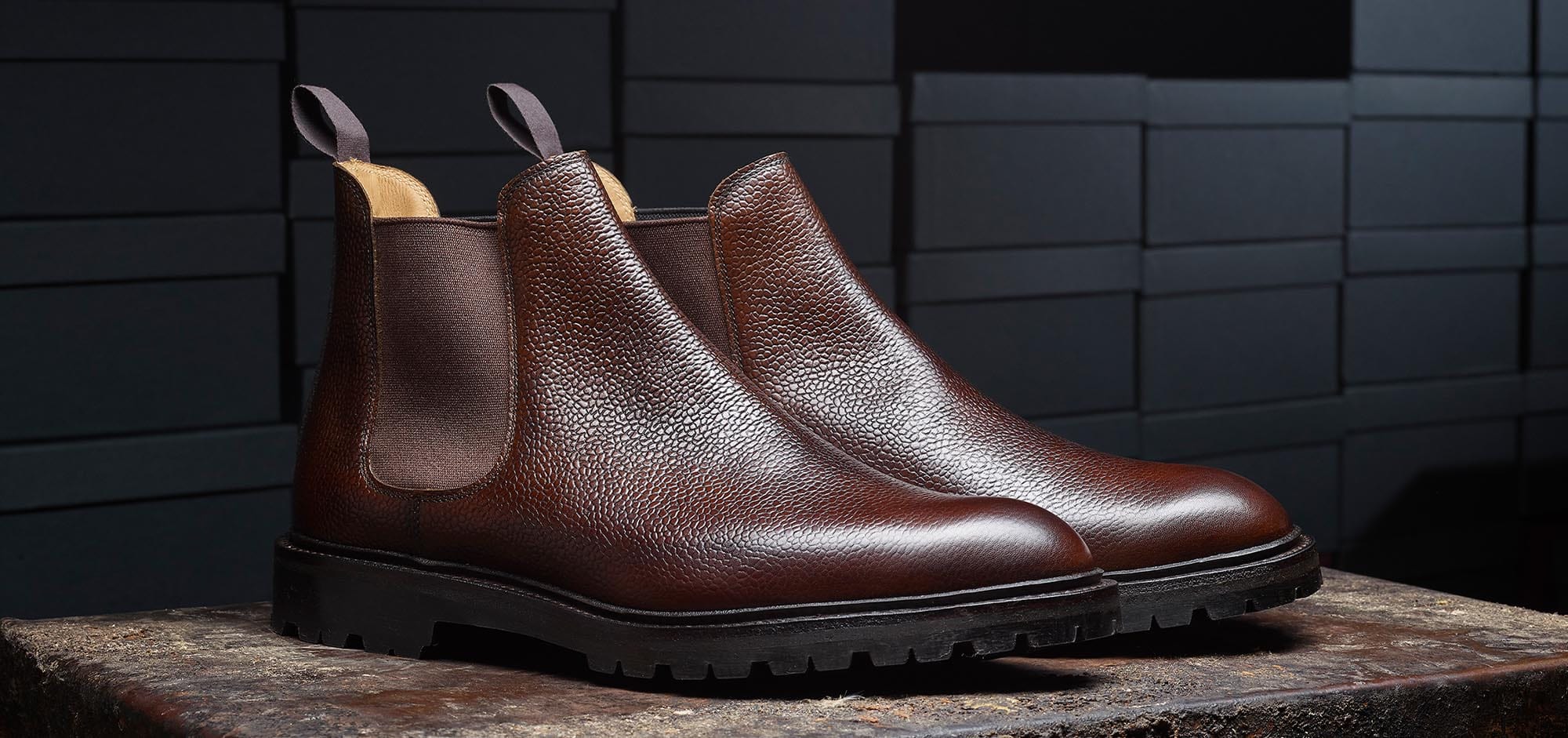 A final word should also go to a couple of boots made-up in C&J's perennially popular Dark Brown Scotch Grain, which likewise holds up well in poor weather. In town, I wear a pair of Country Calf Boston penny loafers in rain or shine, and they've yet to show any signs of struggling in the rain. The Chelsea 11 in Dark Brown Scotch Grain is a handsome thing, and like the Ross, its whole cut pattern and storm welts ensure it is as waterproof as can be. That said, I think this is one of those boots that's almost too good looking to coat in mud – even though the design will more than hold its own. The same applies to this season's newest boot, the Aldershot, with its rakish combination leather uppers. Wear it walking by all means, but make sure you do these handsome things the courtesy of wiping them down afterwards.
Whatever boots you choose as your countryside companion this winter, opt for something storm-welted and you won't go far wrong.